Our customers are at the heart of everything we do.
That's why we're introducing 'Calico in Your Neighbourhood'. This means that our teams here at Calico Homes are getting back out and about in the areas you live. It'll give you the opportunity to chat to us in person, from our Caretakers and Neighbourhood Officers to Sustainment Officers and Independent Living Teams, Income and Investment Teams and more.
From August 2021, we'll be making frequent visits to all of our neighbourhoods and inviting you to tell us about any issues you may be having, or anything you think we're doing well. You'll also have the chance to get to know the faces behind the teams, learn about the work we're doing in your area, and help us to build a better service.
We're here to listen! You can find the full list of dates and areas below, and we'll be sharing regular updates on our Facebook and Twitter page (dates subject to change due to COVID / extreme weather conditions)
---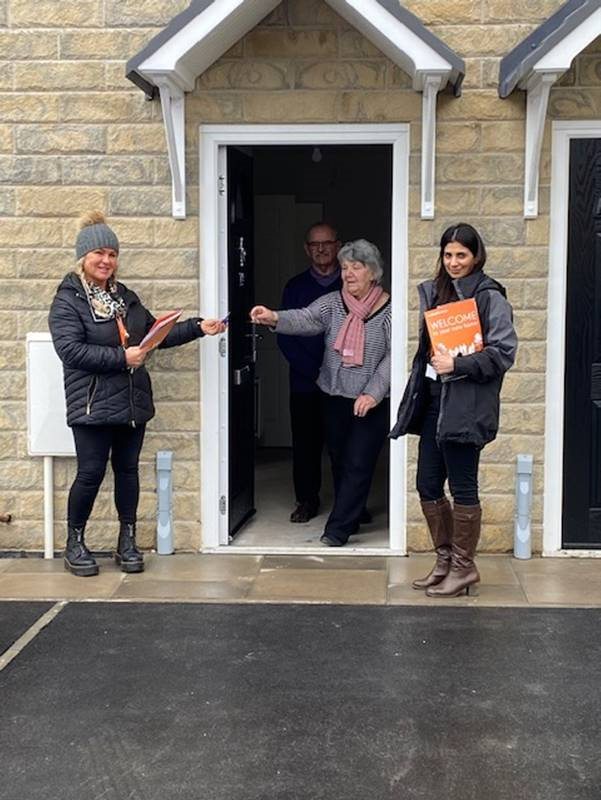 Griffin and Barclay Hills 
3rd August 2021 – 12:30-3:30pm
26th October 2021 – 9:30 – 12:30pm
17th March 2022 – 12:30 – 3:30pm
Abingdon and Whitegate
10th August 2021 – 12:30 -3:30pm
2nd November 2021 – 9:30 – 12:30pm
24th March 2022 – 12:30 -3:30pm
Belvedere
17th August 2021 – 12:30 – 3pm
9th November 2021 – 10 – 12:30pm
31st March 2022 – 12:30 – 3pm
Brunshaw, including Worsthorne and Cliviger
24th August 2021 – 12:30 -3:30pm
16th November 2021 – 9:30 -12:30pm
5th April 2022 12:30 – 3:30pm
Casterton and Lanehead
31st August 2021 – 12:30 – 3:30pm
23rd November 2021 – 9:30 – 12:30am
12th April 2022 – 12:30 – 3:30pm
Clifton Farm
7th September 2021 – 12:30 – 3:30pm
2nd December 2021 – 9:30 – 11:30am
19th April 2022 – 12:30 – 3:30pm
Eastern Estate and Barden
14th September 2021 – 12:30 -3:30pm
7th December 2021 – 9:30 – 12:30pm
29th April 2022 – 12:30 – 3:30pm
Hargher Clough
21st September 2021 – 12:30 – 3:30pm
16th December 2021 – 9:30 – 12:30pm
3rd May 2022 – 12:30 – 3:30pm
Kibble Bank and Briercliffe
28th September 2021 – 12:30 – 3:30pm
21st December 2021 – 9:30 – 12:30pm
10th May 2022 -12:30 – 3:30pm
New Palace House, Palace House and Woodbine
12th August 2021 – 12:30 – 3:30pm
6th January 2022 – 9:30 – 12:30pm *postponed, new dates TBC
17th May 2022 – 12:30 – 3:30pm
Pendle
19th August 2021 – 12:30 – 3:30pm
11th January 2022 – 9:30 – 12:30pm *postponed, new dates TBC
24th May – 12:30 -3:30pm
Ribble Valley
16th September 2021 – 12:30 -3pm
18th January 2022 – 10 -12:30pm *postponed, new dates TBC
26th May 2022 – 12:30 – 3pm
Rosehill
23rd September 2021 – 12:30 – 3:00pm
25th January 2022 – 10 – 12:30pm
31st May 2022 – 12:30 – 3pm
Rossendale
30th September 2021 – 12:30 – 3:30pm
3rd February 2022 – 9:30 – 12:30pm
7th June 2022 – 12:30 – 3:30pm
Slade Lane and Garden Street
5th October 2021 – 12:30 -3:30pm
10th February 2022 – 9:30 – 12:30pm
14th June 2022 – 12:30 – 3:30pm
Springfield Bank, Oxford Road and Burnley Wood
7th October 2021 – 12:30 -3pm
17th February 2022 – 9:30 – 12pm
21st June 2022 – 12:30 -3pm
Stonemoor Bottom and St Johns
12th October 2021 – 12:30 – 3:30pm
22nd February 2022 – 9:30 – 12:30pm
28th June 2022 – 12:30 – 3:30pm
Stoops and Plane Tree
14th October 2021 – 12:30 – 3:30pm
1st March 2022 – 9:30 -12:30pm
7th July 2021 – 12:30 – 3:30pm
Turf Moor
21st October 2021 – 9:30 – 12:30pm
10th March 2022 – 9:30 -12:30pm
14th July 2022 – 12:30 – 3:30pm