Damp, Mould
and Condensation
We all want our homes to be safe and secure, so finding damp or mould can be worrying.
You may be worried about what it can do to your health, or the damage it may do to your home and belongings.
This section help you know what to do if you are worried about damp, mould or condensation.
It has information about ways to prevent damp and mould, and what you can do if you already have a problem. It also says what we will do when you report a damp or mould problem to us.
If you are experiencing any problems with damp, mould or condensation, please contact us.
We will work with you to agree on the right approach.
Call us to report damp
If you are struggling with heating costs or other household bills, please let us know about that too.
Our Tenancy Sustainment Team may be able to help you.
Find out more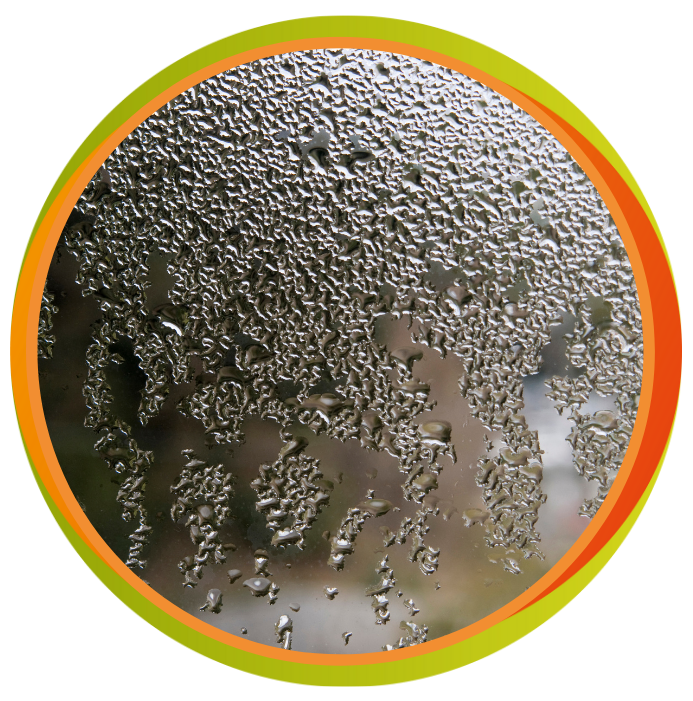 Signs to look out for
Mirrors and windows steam up.

Furniture starts to feel damp.

Walls are moist, even wet.

Black spots of mould appear on outside facing walls or around windows.
If condensation builds up on your windows and mirrors, it could indicate ventilation issues within your home.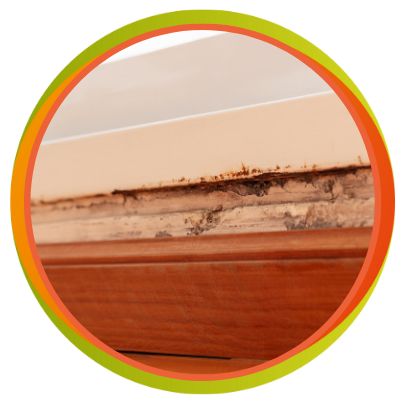 If you find black spots it could be mould
Mould should be removed as soon as possible. When you notice mould spores or moisture appear on or around windows, clean it off with a cloth.

To prevent the regrowth of mould, wipe all surfaces if you know they are regularly affected by condensation. Some mould can be very persistent and may need several attempts.

A dehumidifier is a device that removes moisture from the air. It can help in extreme cases of condensation.

When redecorating, use paints and wallpaper that are suitable for kitchens or bathrooms. Many modern paints and wallpaper pastes have additives that help prevent mould problems.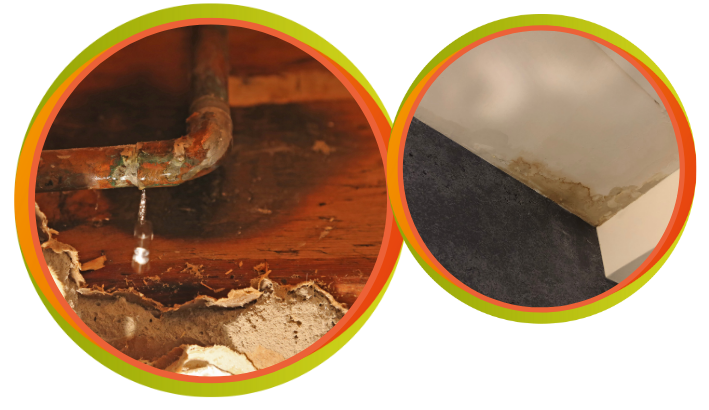 Other forms of damp
When moisture comes into the home from outside, this can be mistaken for condensation, and it can lead to damage, mould and health problems.
Keep an eye out for:
Any leaks from window frames, pipes, walls, roofs, and doors.

Rising Damp – tide marks rising up the wall and crumbling plaster.
If you notice any damp you should contact us as soon as possible so we can deal with the issue quickly and prevent more serious problems.
In the meantime, it may help to use a bucket or bowl to collect any drips and keep surfaces dry with a mop or towel.
Call us
What we can do to help
Please make sure you report any damp, mould or condensation issues to us as soon as possible on 01282 686300.
We will ask you questions to try and identify the cause and severity of the issue and then take the most appropriate steps.
These might include:
Providing advice and working with you to prevent condensation.

Carrying out an inspection to see what action is needed (this may be done by an independent surveyor).

Arranging for a mould wash to reduce any risk, and then coming back on a later date to finish the work.

Installing venting to help control condensation.

Repairing surfaces after works are carried out so they can be decorated.

Offering advice and support to help you make the most of your central heating or deal with energy bills.

Help to find other kinds of support for any other issues that might be affecting you.

Helping you move to another home for a short time, while works are carried out.

Helping you move to another home, if your home is too crowded.
Making sure you have a decent home
All Calico homes must be of a good quality and meet a standard set out by the Government. This is called the "Decent Home Standard".
It is our job to carry out repairs and make improvements to your home if any of the following happen:
1. If there are risks to your health from:
Damp and mould growth,

Extreme temperatures,

Dangerous chemicals,

Overcrowding,

Or any other kinds of health and safety hazards.
2. If your home needs repairs to its structure.
3. If your home has:
A kitchen that doesn't work or is more than 20 years old,

A kitchen with not enough space for you to use it,

A bathroom that is broken or more than 30 years old,

A bathroom and toilet that doesn't meet your needs.
4. If you aren't able to make the temperature comfortable, or you don't have effective insulation or efficient heating.
Please let us know if you have any of these problems.
Call us
Ways we can all reduce condensation
Open a window nearby or use an extractor fan when doing anything that causes steam, such as: boiling a pan or kettle, using the bath or shower, or using a tumble dryer. Leave the window open or extractor fan on for a while afterwards too.

Avoid drying clothes on radiators. If possible, dry them outside or use a tumble drier.

Don't leave windows open for too long if it's cold outside – this could cause the temperature to drop. This could make condensation more likely and increase your heating costs.

Let the air flow from one room to another. Try venting a small window downstairs and a small one upstairs at the other side of the house (just be careful that they are still secure!) and open interior doors so that air can move around.

Keep bathroom and kitchen doors closed when cooking or bathing to stop the moisture created moving into the rest of the house.

Leave a gap between furniture and walls so air to circulate.
Have a medium-to-low level of heat in each room of the home. (Having colder spots can allow condensation to settle.)

Keep central heating on longer (all day in winter), so walls stay warmer for longer. Switching it on and off doesn't help – it's better to leave it on a constant lower temperature for longer.

For any rooms without heating, keep the doors open to allow some heat into them.

Contact us if you are struggling with energy bills or heating your home. We may be able to help.
If you are struggling
The dangers of paraffin or gas heaters
Paraffin and gas heaters might seem like a cheaper option to help with rising fuel costs, but they can pose serious risks too.
These heaters produce carbon monoxide, a gas that can cause headaches, dizziness and can even be fatal.
Carbon Monoxide is very dangerous because we can't see it or smell it, so it's hard to know if we are in danger.
Paraffin heaters also give off harmful fumes that can hurt our eyes, nose, and throat.
Another risk of using paraffin and gas heaters is the risk of causing a fire if they are left unattended.
House fires can spread quickly and cause serious damage to you and your home.
Positive Input Ventilation (PIV)
For some cases of condensation, we may install something called a Positive Input Ventilation (PIV) unit.
This is an energy-efficient way of ventilating the home. It is fitted by a qualified electrician.
It removes unhealthy air and replaces it with drier, fresh air. This helps to reduce the cause of condensation and prevent mould.
On average PIV costs as little as 1p per day to run. This is based on just the fan running. If the fan and heat are running (this happens when temperatures are lower) this goes up to 10p per hour.
More information about condensation
Where does damp and mould come from?
Damp is often caused by condensation.
When moisture builds up in the air and then cools, the condensation can cause damage to your home and, if moulds starts to grow, this can affect your health.
Condensation is normal and it happens naturally in everyone's home. It's caused by a build up of moisture in the air from everyday things like cooking, cleaning and even breathing.
When the moist air meets walls, tiles and other colder surfaces in the home, the water is transferred to those surfaces, which makes them wet. This is condensation.
Knowing how to reduce the amount of condensation in our homes can help prevent damp and mould.